We just got back from an incredible 6 day vacation from Orlando, Florida.  We used to live near Orlando and would go on day trips all the time but since we moved to Tennessee it is obviously ALOT more expensive to visit one of our favorite cities then it used to be. But this time we were able to get a free weekend at Westgate Resort that is offered to all military families.
Orlando has plenty to offer (not just Disney World and Universal Studios) but for this vacation we decided to focus on Disney World and the fabulous Westgate Resort.  But how on Earth were we able to afford such a fabulous vacation without breaking the bank? 
Disney is increasingly expensive and so are many of the resort stays. 
Well,  unfortunately the deals we were able to get does not apply to everyone.  They are exclusively for the military, active duty and Veterans.  My husband is a 100% disabled combat wounded Veteran.  He was hurt during a tour in Iraq.  His life is not the easiest. He is in constant pain.  He lives with it every second of every day.  Additionally, he has a traumatic brain injury that affects certain processing aspects of his memory.  So we certainly will take any opportunity we can get to enjoy an incredible vacation.  
For Disney, we got 4 day park hoppers with a Military Discount.  We can also get a discount for a stay at a hotel on the Walt Disney Resort (I'll be talking more about this in my upcoming series on our trip to Disney World.)  BUT THE BEST THING THAT IS OFFERED TO US is a FREE (YES, I said Free!!) weekend at Westgate Resorts.  Every year for one weekend, they offer a FREE weekend stay at their Orlando resort!  
How We Do It
There is a catch, you can't just say "I'd like to stay for free on the weekend of my choice please."  The weekend is a weekend they pick in May.  But that is ok because our  resort day is WAY cooler than anybody else's resort day during their vacation.  
Near Veterans Day, they open a block of rooms for Veterans and Active Duty and you must claim your room online.  My husband watches the website, Westgate Salutes, very closely prior to this to determine the date and then he gets up first thing in the morning to make sure he can get a room because they are taken fast!! The rooms are only open to first 1,500. Remember, I did say FREE so that means there are a plethora of military families that want this opportunity! 
This past vacation, we decided to upgrade to a two bedroom room. When you are upgrading your room, it is no longer free but it is still very affordable.  
Afterwards, you must show proof of your military service.  My husband sends them his documents and we are good to go!  We have a trip planned for Orlando months later!

Arriving to Westgate
Check in is always on Friday unless you choose to add extra nights to your stay (which we did.)  Once there, you are welcomed and given access to a resource fair for Military Families.  They have all sorts of wonderful information for the whole family.  You also get your badge that will let you into the events, bracelets for entry into their water park, and a picnic blanket for the outdoor concert that will be held for everyone.  

The Westgate Resort
The Resort is absolutely wonderful!  If you decide to not upgrade, the room you get is still great with a living room!  Our room had a full kitchen, a sitting area, and two bedrooms.  The kids were extra excited because their room had a bunk bed!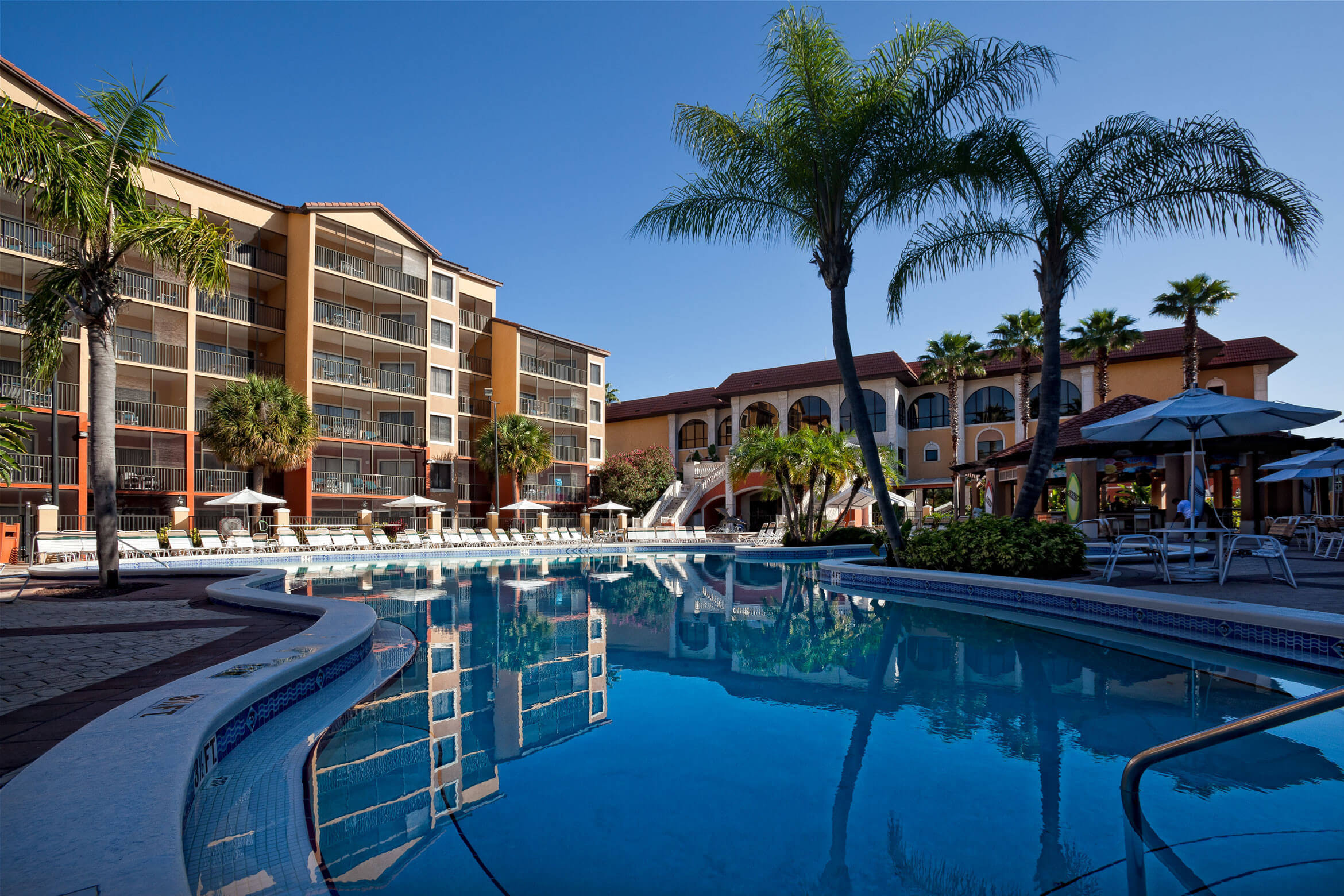 On the grounds, they have a miniature golf course, pools, swan paddle boats, an arcade, restaurants, a small grocery store, Starbucks (YAY coffee!!), a Hershey's Ice Cream Shop (YUM YUM!), and a Water Park.  Some of these activities (like the waterpark) normally have an entrance fee.
We ordered pizza for our room the first night we got there and it was really good!!  It came to our room hot and fresh!  
Also, I LOVE my coffee!!  LOVE IT!  But I am also a coffee snob!  Don't give me any of the weak stuff that has a hint of coffee…    Usually, I must go to a coffee shop like Starbucks while on vacation in order to start my day right BUT the coffee that Westgate provided for your room was really good!  So YAY-no money spent on Starbucks while there!
Westgate Offers So Much On Saturday
Morning Activities
On Saturday, they have bucket loads of activities for the military families. There was a family field day and a town hall with Gary Sinise.  One of the Hubs favorite experiences of the WHOLE TRIP however was the War World II military vehicle demonstrations.  It really was cool!  They had several different WWII military vehicles lined up for you to look at and my daughter especially loved the WWII ambulance.  She was able to learn a lot about treating the wounded in field during WWII because of it.  BUT they also had tanks maneuvering and firing simulation rounds.  It was a fantastic show and a great experience to watch!!  Afterwards, the tank crews were available to answer any questions and gave the children shell casings hat was used!  SO COOL!!
The Water Park
Afterwards, we went to Shipwreck Island, the water park.  Military Families can go for FREE on Saturday when you normally need to pay to enter.  We had such a fun day there.  I will warn you, don't make the mistake we did.  We decided to have lunch in our room before we went so that we didn't have to buy any food while in the park and the line to enter would die down a little bit (the water park opens at 11.)  When we arrived the line was gone BUT so were ALL the places to sit.  So get there early to get a spot. 
The kids loved it!  The first level has a pool and small slides for children under 48 inches.  The second level has bigger slides for the bigger kids and adults, a lazy river, and a splash pad with a pirate ship!  My son played for a long time on that splash pad going up to the pirate ship and down the slides.
You are not allowed to bring your own food or drink into the water park which always frustrates me because we try to eat all organic and I'm diabetic so I must watch my blood sugar closely (I'll be honest-all healthy eating went out the window this vacation.)  BUT Westgate offers food half off for military families that day so that is always helpful!  
The Evening Concert
The evening was BY FAR my favorite part!  Westgate Resorts puts on a special outdoor concert just for the military families and it is a fantastic event.  When you arrive there are $1 beers available. I even saw one man leave with a whole crate of beers!  I mean why not?  20 beers for $20?  You're good to go for awhile! The only downside to $1 beer is it guaranteed that there was that one intoxicated guy during the concert that continuously yelled "FREEBIRD!" through out the concert.  
They have free ice cream from Hershey's. Free sodas and water and free hotdogs, hamburgers, and chips!  There are games and glitter tattoos for the children as well as glow sticks for the concert.  You pick a spot for your picnic blanket and get ready to enjoy a concert and some wonderful entertainment with several hundred other military families.  It really brings a feeling of community. 
This year, there was a special appearance by Lee Greenwood and the concert was by none other than Gary Sinise and the Lt. Dan Band!  
Gary Sinise and the Lt. Dan Band was so much fun!! The music had me up and dancing the entire time! At one point, there was even a conga line!! If I ever have the opportunity to see them again-you can be sure I will do it because they were awesome!
To top off the day, it ended with a beautiful celebration with fireworks!
Tip that I didn't think of and wish I had: Bring toys for the kids.  The first year we went we had to leave early because  the kids were tired and bored.  This time, my oldest found someone to play with and Brother fell asleep during the concert.
Gary Sinise and the Lt. Dan Band
If you are wondering who Gary Sinise is most people remember him from his role as Lt. Dan in Forest Gump.  He played several other roles on the screen but that is probably what he is most famous for.  Now, he plays guitar for the Lt. Dan Band.  And they are a fantastic band!  But he does so much more.  I can say that even though, I have never met Gary Sinise he has personally touched our lives.  From providing a great night of entertainment for several military families to providing my husband a chance to get a civilian job.
Gary Sinise has started a nonprofit foundation called Gary Sinise Foundation to honor Veterans, First Responders, and their families.  It really is a foundation that has touched several lives.  When the Hubs got out of the military, he didn't have a suit for job interviews.  He never needed one because he wore a uniform to work everyday of his adult life before he was medically retired.  Gary Sinise, through his foundation, provided free suits from Men's Warehouse to many Veterans including my husband.  He still has that suit and he wore it to the job interview that set his career working for disabled Veterans in motion.
Gary Sinise foundation does not offer free suits anymore but they offer SO MUCH to so many! I am a big fan of Gary Sinise as an actor, a musician, and a human being. He makes this world a better place for many.
Thank you Westgate!
The free weekend that Westgate Resorts offers to Military Families is a huge blessing for my family personally but it touches the lives of so many!  On Sunday, before checkout a free continental breakfast was offered to all of us and they even had a flower for every mother since it was Mother's Day.  We are so thankful of everything they offer us!  Our trip to Orlando rejuvenated us!  And even though we decided to go to Disney World, it wasn't necessary to have a great time!  The weekend at Westgate was so much fun already and makes for a wonderful vacation just by itself.  Thank you Westgate for a wonderful time!  We are truly grateful!